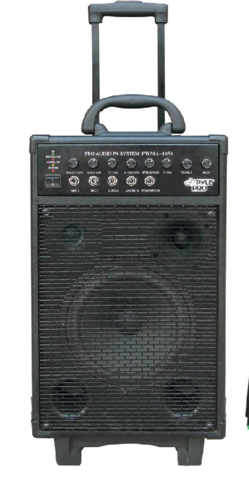 Battery Powered (or AC Powered) 800 Watt Portable Pa System
Battery Powered (or ac powered) 800 Watt Portable Pa Sound System Rental
On Sale, Was $120.00!



800 Watt Pyle Pro portable pa system, 10" Speaker, Wireless Portable Pa System with Ipod Dock. Battery powered or ac powered. 1/4" Inputs. Recommend for very small crowds of less than10 people indoors. Battery will last about 4 hours on full blast.

Easy to use! Minimal set up!

Comes with a 10 foot wired microphone.
Comes with an AUX cable for music.

Add longer length microphones at additional cost.
Add wireless microphones at additional cost.

Great for music and announcements!