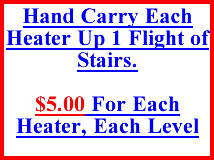 Hand Carry Each Heater Up 1 Flight of Stairs




$5.00

+ Travel Fees Will Be Applied Based On Zip Code Location



Hand Carry Each Heater Up 1 Flight of Stairs
Delivery of the heaters is to ground level. If you need us to carry them upstairs then there is a $5.00 charge per heater. If you have an elevator, there is no additional charge.
Adjust the quantity to match the quantity of each heater ordered for every flight of stairs. For example 6 heaters up 3 flights of stairs would cost $90.00.
If you have an elevator, you won't need to add this.