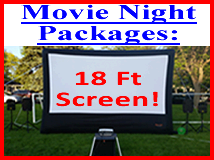 Large Outdoor Movie Night Rental




$450.00

Please call to reserve this item.

Large 18 Foot Outdoor Movie Night Rental
Movie Under The Stars
Starts at $450 PLUS TRAVEL FEE
For best results, start the movie 30 minutes after sunset.
-High quality 15" JBL loud speakers, you will FEEL the action!


-Live attendant for the entire time. We will set everything up!




-18 Foot projection screen, 16 feet wide, 9 feet tall




-HD high quality home theater projector




-Attendant will play music of your choice before the movie




-Bigger, better and more affordable than our competitors 16' screen




-$450 for the first 2 hours, add additional hours for $75 an hour


- *Movie will start at sunset when it's completely dark outside* We are unable to start earlier as the projector is not brighter than the sun*


-You provide the DVD/Blu-ray movie disc of your choice, Provide access to electricity and invite the people!




-No Power? Add a gas generator for $75.00


-Add a pop corn machine for added fun
*We need a minimum set up area of 40 feet by 40 feet*


Our outdoor movie night rental will make your next party a huge success!
Can also been used indoors in a gym.
*You are responsible for obtaining license for a public setting*
If you want to show a copyrighted film in a public setting, you will need to contact one of these licensing service companies to obtain permission.
Criterion Pictures USA, Inc.
8238-40 Lehigh
Morton Grove, IL 60053-2615
1-800-890-9494 or 1-847-470-8164
Fax: 1-847-470-8194
Email: greatmovies@media2.criterionpic.com

Kino International Corp.
333 W. 39th Street, Ste. 503
New York, N.Y. 10018
1-800-562-3330 or 1-212-629-6880
Fax: 1-212-714-0871
Email: contact@kino.com or filmrentals@kino.com
Milestone Film & Video
P.O. Box 128
Harrington Park, NJ 07640-0128
1-800-603-1104 or 1-201-767-3117
Fax: 1-201-767-3035
Email: info@milestonefilms.com
Modern Sound Pictures
1-402-341-8476
Motion Picture Licensing Corporation (MPLC)
5455 Centinela Avenue
Los Angeles, CA 90066-6970
1-800-462-8855 or 1-310-822-8855
Fax 1-310-822-4440
Email: info@mplc.com
Movie Licensing USA
A division of Swank Motion Pictures, Inc.
201 South Jefferson Avenue
St. Louis, MO 63103-2579
Schools: 1-877-321-1300
Libraries: 1-888-267-2658
Other organizations: 1-800-876-5577
Fax:1-314-287-1748 (schools), 1-877-876-9873 (libraries)
Email: mail@movlic.com or mail@swank.com
New Yorker Films
16 West 61st Street
New York, NY 10023
1-877-247-6200 or 1-212-247-6110
Fax: 1-212-307-7855
Email: info@newyorkerfilms.com
Swank Motion Pictures, Inc.
(800) 876-5577