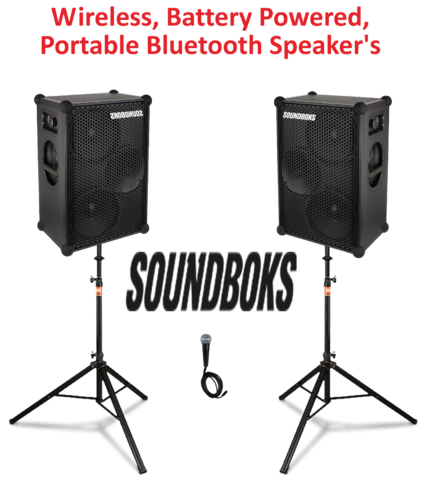 Two Battery Powered Pa Sound System Soundboks with Bluetooth Spring Speical




$120.00

Please call to reserve this item.

Soundboks is the LOUDEST Portable Battery Powered Bluetooth Speaker Pa Sound System. (Can also be plugged in)
24 hour rental
Spring Special Pricing good thru May 30th only
Ip65 Water Rated for Outside Usage. Rain, Snow, No Problem!
3 to 4 hours of very loud 126db concert level sound (or plug it in)
Includes a microphone and auxiliary cable
**Can be tripod pole mounted**
Can I connect multiple SOUNDBOKS (Gen. 3) Speakers?Using SKAA technology, the revolutionary SOUNDBOKS is changing the game with a wireless SKAA network, which allows up to five SOUNDBOKS speakers to connect wirelessly without running cables to each one.
Inputs:
Xlr x2 1/4" Microphone Combo Socket
Bluetooth for Music
Outputs:
Aux out 1/8"
What's Included?
10 Foot Wired Microphone
4 Foot Aux Cable for Music
Power Cords
Speaker Stands