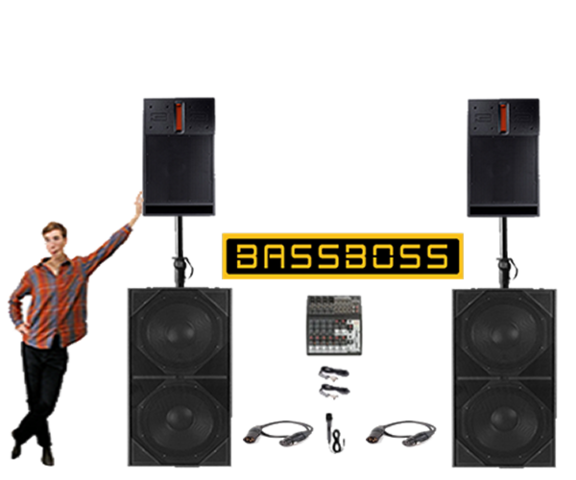 Two DV12-MKII BASSBOSS Tops and Two BASSBOSS ZV28 Subwoofers Winter Special




$455.00

+ Travel Fees Will Be Applied Based On Zip Code Location

Please call to reserve this item.

Two BASSBOSS DV12 MKii Tops and TWO BASSBOSS ZV28 Subwoofers
14,000 Watts RMS
Two BassBoss Dv12 MKii Powered Speakers and TWO BassBoss ZV28 Dual 18" Subwoofers

Comes with a basic mixer, 1 Wired Microphone, 1 aux cord, and all cables provided, Subwoofer Pole Mounts

REDEFINE WHAT A 12″ TOP CAN DO
PRISTINE FULL-RANGE POWER
Built-in 3000 RMS Watt Amp
Invertible Array
Full Range/Satellite Mode
Compare to QSC K12.2 1000 Watts RMS to BASSBOSS DV12mkii 3000 Watts RMS
Extremely high output and uniform energy dispersion over a very wide and deep sound field.
The DV12-MKII single 12″ Top offers ultra high-fidelity, full-range music reproduction, excellent speech intelligibility, extremely wide dispersion, and even sound projection over distance. The MKII update has brought deeper frequency response, better performance, and improved ergonomics.
With frequency range now down at ±3 dB to 40 Hz in full range mode, the DV12-MKII offers more bass output than many mass-market subs.
ZV28 Subwoofer Specs:


Move Audiences
Groundbreaking Performance 4000 Watt RMS Amplifier
Super-High Continuous Output
Deepest High-Output Sub for its Size
The ZV28 Subwoofer delivers bass so low down to 20HZ as to be at the very limits of human hearing.
Notes that are simply not present with other subwoofers are fully realized by the ZV28, and frequencies that stress lesser subs are reproduced effortlessly and powerfully.