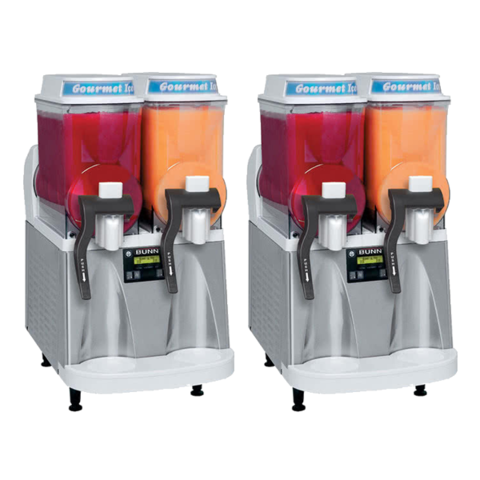 Two Large Double Barrel Frozen Drink Machines




$240.00

Additional Travel Fees Will Be Applied By Zip Code Location



Two Large Double Barrel Frozen Drink Machine Rental
*This is a delivery only item*


24 Hour Rental:

$240 PLUS the cost of delivery based on your zip code.
*MUST BE PLUGGED INTO TWO COMPLETELY SEPERATE DEDICATED CIRCUITS!

We will deliver this machine, set it up and make your first batch for you (if you purchase our mix).

2 Completely Separate Dedicated 15 amp circuits required.

Outside use NOT recommended.

Extension Cords NOT recommended



Perfect for large parties! Designed for high output and very easy to use. It has a double barrel that holds 3 gallons of frozen beverage on each barrel, 12 gallons total. That lets you serve 12 gallons per 120 minutes!

(96 8oz cups)

Can also be used as a slushy machine for a kids party, or as a frozen beverage machine, Or a Milkshake Machine!
Perfect addition for any party!
-Comes with a utility cart with wheels.
-We will help you mix your first batch!


-Comes with two 5 gallon coolers (if you purchased more than 2 mixes)


-Great with or without alcohol
- Can be used to chill drinks, or as a frozen drink machine
-Large volume snow cone machine
-Can be used to make large volume

Milkshakes!



Don't forget to add mixes and Salt to your shopping cart!
Email us to request a recipe for milk shakes.
We Sell Drink Mixes:
Froze