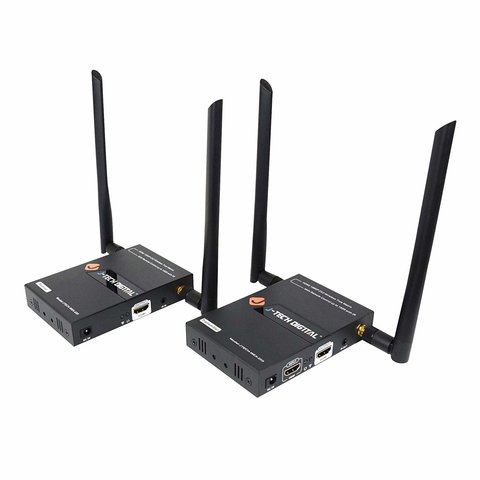 Wireless HDMI 2 Channel Splitter
Wireless HDMI 2 Channel Splitter Transmitter and Receiver
√ HIGH DEFINITION VIDEO QUALITY UP TO 150 FT AWAY – The JTECH-WEX-22D will allow you to extend 2 separate HDMI audio/video signals to 2 displays, at a distance of up to 45m (150ft) all done wirelessly. [Note: due to the wireless data compression, there is a latency of about .01-.03 milliseconds between the source and the receiver transmission]

√ 2X2 MATRIX WITH 10 SELECTABLE TRANSMISSION CHANNELS – When utilizing 2 Transmitters with different sources connected, you can change the channel of your receivers to match the channel of the transmitter and source that you want to watch. (All Wi-Fi channels used by this extender are on a 5GHz band.)

√ FULL HD RESOLUTIONS SUPPORTED – Experience video in High Definition with the following resolutions: 1080p/1080i@60Hz, 720p/720i@60Hz, 576p/576i@60Hz, 480p/480i@60Hz.

√ 20-60 KHZ WIDE FREQUENCY IR CONTROL EXTENSION – Control your source device from the location of your display using the IR extension. (The working IR frequencies are 20KHz-60KHz).


Comes with:

1 Wireless Transmitter
2 Wireless Receiver
3 HDMI Cables, 4ft Long