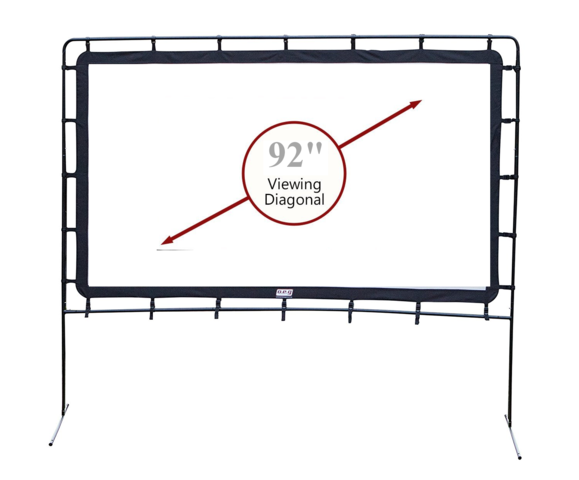 92 Inch Front or Rear Projection Screen 16:9, Outdoor / Indoor
92 Inch Outdoor / Indoor Projector Screen Rental 16:9
92" Diagonal
92" diagonal display screen, clip style easy setup, use with portable projector

Designed to be portable and easy to store. Weighs only 16lbs

Comes with a carry bag 4 frame stakes, and 4 guy lines, sets up in minutes, Overall screen stands 80" H x 92" W (Inches), 80.5" wide by 45" tall (Inches)

Use Backyard, Event, Indoor, Outdoor, Camping, RV, Glamping, or anyplace you want to show a movie or presentation

Have you own portable theater, no need to have power or noise from an inflatable screen, this one packs up small and sets up quickly.
**If used outdoors, the screen MUST be either staked into the dirt or grass OR if you can't steak, we must use sand bags to hold the screen down. It will easily fall over with a small breeze if it is not tied down.**

If you need sand bags, please let us know in the customer comment section in the 3rd step of the check out process.