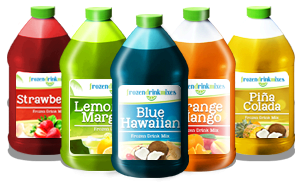 Custom Flavor (No returns, special order)
Call us to choose a custom flavor.
303-219-1970 from 10am to 7pm.
*Please allow 7 business days to ship your mix. Custom flavors are $22.00 plus tax per mix.
Blue Hawaiian
Cherry Bomb
Cherry Limeade
Green Sour Apple
Hawaiian Punch
Lemon Gold Margarita
Lemonade
Orange Dreamcicle
Orange Mango
Red Peach Bellini
Rum Runner
Strawberry Banana
Mai Tai
Strawberry Kiwi

call 303-219-1970 from 10am to 6pm.