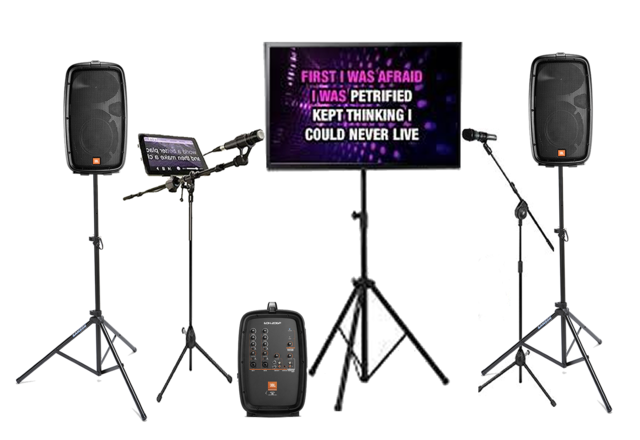 Mega Digital iPad Karaoke Rental with TV
Setup Area: 4x6
Outlets: 3




Mega Digital iPad Karaoke Rental with 32" TV
Delivery of this item is highly recommended



TOP RENTAL!


Based on how loud this machine is, we recommed this package fior crowds of up to 35 people or less. (or 15 people in noisy environments or outdoors)



This is a Do-It-Yourself karaoke machine. Your guests will search for their own song on the iPad OR remotely from any internet connected device. Your guests will be able to search for their song on their phone, and add their song to the rotation remotely!





40,000 + karaoke songs streamed online
**Reliable High Speed WiFi Needed!**Access to electricity is required!!**


All Digital, No need to mess around with cd's!
If your looking for a karaoke machine with great sound quality, this is the package we recommend!
Includes:


-24 Hour Rental
-We will train you on how to use the software and sound system.

(Delivery is recommended: If you are unfamiliar with electronic technology, and sound system equipment, we recommend having Premier deliver and set it up for you)


-iPad with 40,000 + Songs Ranging from 1930's Thru Present (Updated Monthly For New Songs!)
-2 Microphones with Mic Stands
-High Quality JBL Eon206p Speakers with Speaker Stands
-32" TV With Tripod TV Stand
-Party goers can search/view and add their song REMOTELY using ANY internet connected device.
Based on how loud this machine is, we recommed this package fior crowds of up to 35 people or less. (or 15 people in noisy environments or outdoors)
Recommended to add on: Subwoofer for better sound quality