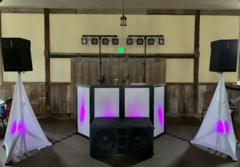 Mobile Traveling DJ Services
Setup Area: 10x10
Attendants: 1




Premium Mobile DJ Party COMPLETE Party Package with 18x18 Dance Floor and Lighting Package
Want to hear our DJ in action mixing your favorite songs? Visit our Facebook Page https://www.facebook.com/Premierdenver/
$1500 for 4 hours and $150.00 each for each additional hour.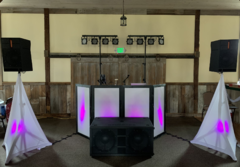 Includes:

-Premium Upgraded sound system: 2 Main DV12 MKiii Tops 6000 watts rms!
-BassBoss ZV28 Dual 18" Subwoofer (4000 watts rms) Add One More Zv28 For Only $50 More!
-Customize Your Own Song List!
-18x18 Indoor Dance Floor Included!
-15 Premium Up Lights
-Facade Table Cover
-Upgraded LED Dance Floor Lighting
-Premium Moving Head Beam Dance Floor Lighting
-2 Long Range Wireless Microphones
-Custom Programed Light Show Using SoundSwitch (each song has a unique custom programmed light show!)
-We bring an immersive iMax theater-like experince to your location! Premium sound quality!

Compare our DJ equipment to what other DJ's bring. The average DJ setup costs about $1000. Compare to our full club immersive professional audio setup of more than $25,000. The choice is clear!

Most other DJ's don't even bring a subwoofer, or lighting for the dance floor. Compare pricing to quality!
Your premier source for an unparalleled audiovisual experience that will elevate any event to the next level. With top-of-the-line professional speakers and subwoofers, we deliver an IMAX-worthy, soul-shaking sound experience that will leave your guests in awe. Our custom-designed light shows further enhance the ambiance, creating a visual spectacle that perfectly complements the electrifying beats.
We understand that exceptional sound quality is crucial to any event, which is why we spare no expense in providing the best audio equipment available. Our powerful speakers and subwoofers deliver crystal-clear highs and chest-thumping bass that will keep the dance floor pulsating all night long. Whether it's a wedding, corporate event, or private party, our state-of-the-art sound system ensures that every note and beat is delivered with precision and impact.
But we don't stop at just outstanding sound - our custom light shows take the experience to a whole new level. We curate mesmerizing light displays that synchronize seamlessly with the music, creating an immersive atmosphere that captivates the senses. From vibrant wash lights to dynamic moving heads, our lighting setup is tailored to complement the music and elevate the overall visual experience. The result is a harmonious fusion of sound and light that guarantees to leave a lasting impression on your guests.
When you choose Premier Event Rentals you're not just getting a DJ service - you're getting an unforgettable audiovisual journey. We take pride in delivering an outstanding experience that exceeds expectations and creates memories that will be cherished for years to come. Let us transform your event with a symphony of sound and light that will transport your guests to a world of pure sonic and visual bliss.
Want to hear our DJ in action mixing your favorite songs? Visit our Facebook Page https://www.facebook.com/Premierdenver/
The video below was recorded with a camera, so the audio does not sound very good. This is a visual example of our DJ booth with dance floor lighting and a custom projection mapped dj facade (not included in this pricing)