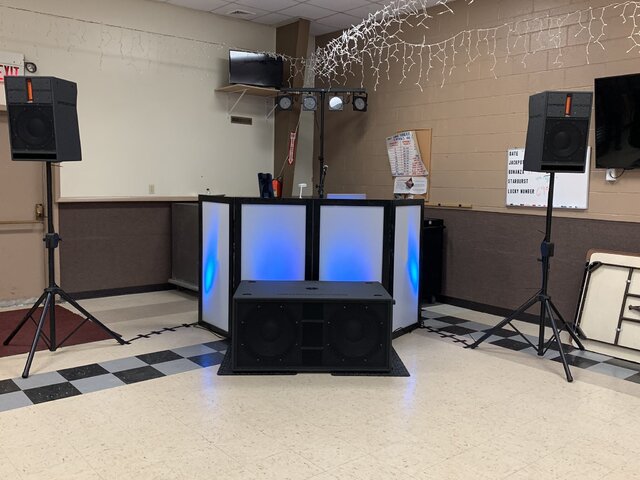 Mobile Traveling DJ Services 1 Hour Package
Mobile Colorado & Denver DJ Services Package
Starting at $305 for 1 Hour, $95 Each Additional Hour
Want to hear our DJ in action mixing your favorite songs? Visit our Facebook Page https://www.facebook.com/Premierdenver/
Open Format DJ, We play all types of music!

We travel the entire State of Colorado to DJ any type of party!

Why choose a DJ from a party rental place? Simple, The DJ owns the party rental company and will personally take care of you! We also bring dance floor lighting for free, and we only use high quality Speakers! (Most DJ's do not bring dance floor lights, and they bring cheap speakers!)
Packages starting at $305 for the first hour, and $95 for each additional hour. Includes custom programmed dance floor lighting using SoundSwitch beat matching, and Premium Professional Sound System with music mixed and mashed in real time using a real DJ controller. We bring the club to you!
Beware of other "dj's" who bring basic cheap speakers and play a basic playlist from spotify from their computer on equipment less than $1000 of basic equipment. Compare to our service that is mixed on real controllers in real time song requests with our professional grade equiptment of more than $20,000, the choice is clear!
Need a Great Colorado or Denver Wedding DJ?
Weddings get a free facade cover upgrade!
Perfect for any type of party!
Weddings
Proms
Corporate Events
Graduations
Holiday Parties
Anniversaries
Birthday Parties
Grand Openings
Sweet 16's
Gala Events
Quinceaneras
Festivals
Clubs
Wedding DJ For Denver
Whether you are looking for a DJ for your wedding in Denver or a Colorado mountain wedding, we will have everything you need to make your celebration perfect. We have excellent dance floor lighting, superior sound systems and great pricing! We are a full service Denver wedding DJ and want to help make your celebration perfect.

Denver DJ For Any Celebration
If you are just interested in a Denver DJ for one of the many celebrations listed above, we are happy to join you to make your party great.
About the DJ:
With over 15 years in the DJ industry we have the experience to play any format of music to your taste! Open format allows us to play a variety of genres to suite a wider variety of people. The music genres are your choice, and you can be as specific as you like with your music choice, or you can let our dj design a playlist for you! But as an open format dj, we can mix any type of genre with other genres.

Our DJ specializes in: EDM, Rap, Pop, R&B
Want to hear our DJ in action mixing your favorite songs? Visit our Facebook Page https://www.facebook.com/Premierdenver/

This video was recorded with a camera, so the audio quality didn't record very well, but its a great example of how our DJ booth looks with all of our lighting. This example incliuded a custom projection mapped dj facade. (Not included in our pricing)