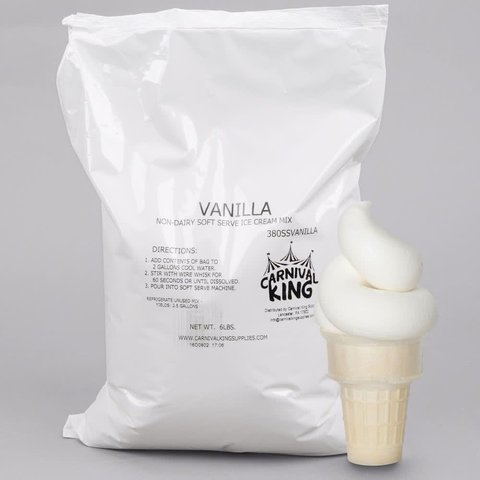 Vanilla Soft Serve Ice Cream Mix 2 Gal Powder Bag
Vanilla Soft Serve Ice Cream Mix 2 Gal Powder Mix
Two Pound bag makes 120 2oz servings
(Will Make 2 Batches)
Convenient Mix
Simply mix with 2 gallons of water, in the 5 gallon cooler we provide. We also provide a whisk for you to mix it all together and pour 1 gallon into your soft serve machine for fast, consistent results. Since this dry non-dairy mix requires no refrigeration until after it's been opened.

One bag of mix will fill our machine 2 times.
1 gallon of soft serve will be ready every 90 minutes.
Machine Capacity is 1 gallon = 60 2oz servings
1 bag = 120 servings

Click here for recipe ideas for more flavors!